3500 m2 surface
At Global Creations, we produce all displays and other point-of-sale material ourselves. At our 3500 m2 production site, we have the best machines and methods to make this happen. This enables us to carry out the entire process of technical conception, design and production ourselves. This way, we can move quickly and customisation is not a problem.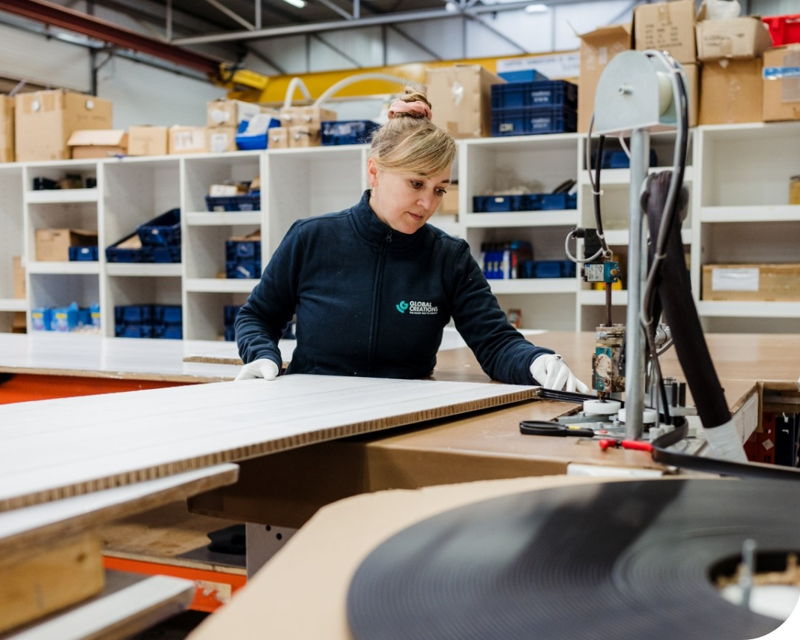 The best printer
To enable us to print in the best quality, we have an Agfa Tauro 3300 UHS printer. This allows us to print up to 600 m2 per hour. The printer is suitable for all kinds of sheet material, including paper, cardboard, plastic, wood and various composite materials. This lets us offer the very best quality with a short lead time.
Lacquer
We have various devices and systems to perfectly finish our displays and materials for in-store communication. For a high-quality look and extra protection, we use a Burckle paint system. This allows us to coat boards - Swedboard, for example - with a UV lacquer. The colours gain depth and the material gets extra protection. This top coater processes about 1,000 m2 per hour.
Finishing & assembling
Our working method allows us to produce the best displays at lightning speed. We have several Zund cutting systems to handle sheet material 24/7. We can cut, crease or mill (printed) sheets automatically. We then assemble the individual parts ourselves. For this, we have various hot melt adhesive systems. To finish Swedboard displays, we use an edging machine. We wax the underneath in an immersion tank to protect the display from dirt and moisture.